TYPES OF BRUSHES
BRUSHES FOR SPECIFIC APPLICATIONS
Twisted brushes
Inquiry form
Serial production
Technology
Photogallery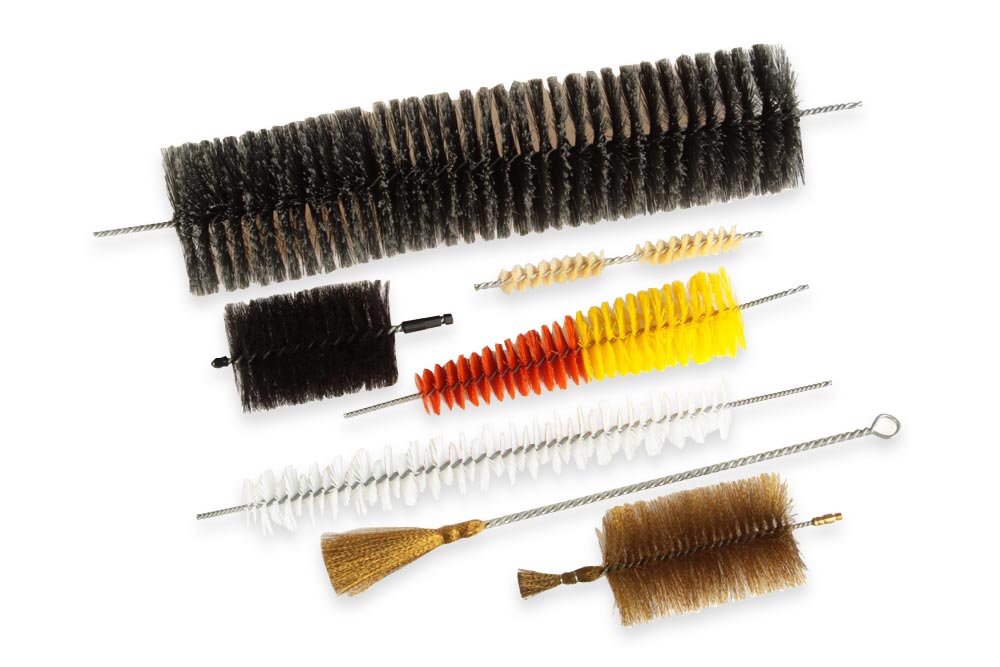 Twisted brushes are a very variable product, due to the number of diameters, the length of the string and types of filament materials.
This type of brush is used for a wide range of applications, including cleaning of cylindrical holes, open or blind, pipe cleaning, as well as brushes used in filter systems. Furthermore, with suitable filling, it is possible to use them for deburring of drilled holes.
Serial production of micro brushes
If you are interested in receiving a price offer for microbrushes, please enter the number of the selected brush and the quantity in the web form in the column description of the brush and purpose of use, if using polyamide please specify the diameter of the selected fiber. Many Thanks.
Filament material polyamide

| Nr. | Core wire | L | L1 | D | Z1 | Z2 | Dia of fil.material |
| --- | --- | --- | --- | --- | --- | --- | --- |
| 8000032 | Galvanized steel wire | 125 | 30 | 3,2 | Cutting of | Cutting of | 0,15mm |
| 8000032/00035 | Galvanized steel wire | 125 | 30 | 3,2 | Cutting of | Cutting of | 0,35mm |
| 8000042 | Galvanized steel wire | 125 | 30 | 4,2 | Cutting of | Cutting of | 0,15mm |
| 8000042/0035 | Galvanized steel wire | 125 | 30 | 4,2 | Cutting of | Cutting of | 0,35mm |
| 8000048 | Galvanized steel wire | 125 | 30 | 4,8 | Cutting of | Cutting of | 0,15mm |
| 8000048/0035 | Galvanized steel wire | 125 | 30 | 4,8 | Cutting of | Cutting of | 0,35mm |
| 8000054 | Galvanized steel wire | 125 | 30 | 5,4 | Cutting of | Cutting of | 0,15mm |
| 8000054/0035 | Galvanized steel wire | 125 | 30 | 5,4 | Cutting of | Cutting of | 0,35mm |
| 8000066 | Galvanized steel wire | 125 | 30 | 6,6 | Cutting of | Cutting of | 0,15mm |
| 8000066/0035 | Galvanized steel wire | 125 | 30 | 6,6 | Cutting of | Cutting of | 0,35mm |
| 8000072 | Galvanized steel wire | 125 | 30 | 7,2 | Cutting of | Cutting of | 0,15mm |
| 8000072/0035 | Galvanized steel wire | 125 | 30 | 7,2 | Cutting of | Cutting of | 0,35mm |
| 8000082 | Galvanized steel wire | 125 | 30 | 8,2 | Cutting of | Cutting of | 0,15mm |
| 8000082/0035 | Galvanized steel wire | 125 | 30 | 8,2 | Cutting of | Cutting of | 0,35mm |
| 8000102 | Galvanized steel wire | 125 | 30 | 10,2 | Cutting of | Cutting of | 0,15mm |
| 8000102/0035 | Galvanized steel wire | 125 | 30 | 10,2 | Cutting of | Cutting of | 0,35mm |
| 8000115 | Galvanized steel wire | 125 | 30 | 11,5 | Cutting of | Cutting of | 0,15mm |
| 8000115/0035 | Galvanized steel wire | 125 | 30 | 11,5 | Cutting of | Cutting of | 0,35mm |
| 8000016 | Galvanized steel wire | 125 | 30 | 16,0 | Cutting of | Cutting of | 0,15mm |
| 8000016/0035 | Galvanized steel wire | 125 | 30 | 16,0 | Cutting of | Cutting of | 0,35mm |


Filament material abralon AO K 600

| Nr. | Core wire | L | L1 | D | Z1 | Z2 | Dia of fil. material |
| --- | --- | --- | --- | --- | --- | --- | --- |
| 8100032 | Galvanized steel wire | 125 | 30 | 3,2 | Cutting of | Cutting of | 0,25mm |
| 8100042 | Galvanized steel wire | 125 | 30 | 4,2 | Cutting of | Cutting of | 0,25mm |
| 8100045 | Galvanized steel wire | 125 | 30 | 4,5 | Cutting of | Cutting of | 0,25mm |
| 8100048 | Galvanized steel wire | 125 | 30 | 4,8 | Cutting of | Cutting of | 0,25mm |
| 8100055 | Galvanized steel wire | 125 | 30 | 5,5 | Cutting of | Cutting of | 0,25mm |
| 8100066 | Galvanized steel wire | 125 | 30 | 6,6 | Cutting of | Cutting of | 0,25mm |
| 8100072 | Galvanized steel wire | 125 | 30 | 7,2 | Cutting of | Cutting of | 0,25mm |
| 8100082 | Galvanized steel wire | 125 | 30 | 8,2 | Cutting of | Cutting of | 0,25mm |
| 8100092 | Galvanized steel wire | 125 | 30 | 9,2 | Cutting of | Cutting of | 0,25mm |
| 8100102 | Galvanized steel wire | 125 | 30 | 10,2 | Cutting of | Cutting of | 0,25mm |
| 8100115 | Galvanized steel wire | 125 | 30 | 11,5 | Cutting of | Cutting of | 0,25mm |
| 8100016 | Galvanized steel wire | 125 | 30 | 16,0 | Cutting of | Cutting of | 0,25mm |
| 8100020 | Galvanized steel wire | 125 | 30 | 20,0 | Cutting of | Cutting of | 0,25mm |